pollution
---

Victoria filmaker Ian Hinkle will shoot undersea footage of Scott Cassell's potentially world-record non-stop dive Saturday, from Catalina Island's avalon Harbor to Los Angeles.
(quote)
Going to great depths to save ocean life
Scott Cassell already holds the record for longest non-stop dive but is ready to break it again while trying to preserve ocean life.
On September 17, the explorer and combat/commercial diver will attempt a 30-mile (48-kilometre) non-stop SCUBA dive from Catalina Island to Los Angeles, gathering information about shark population and what the ocean actually holds, a task that only human effort can accurately collect.
"[The ocean] is where monsters dwell," says Cassell, who has spent more than 13,000 hours under water in his lifetime, "Where man's imagination can become reality because it truly does have the most magnificent animals to ever have existed."
From 1,000 ft. to 3,000 ft., he will be diving through two great white shark strike zones, and an area that has been known to contain very large Mako sharks, to calculate how many sharks there are in Southern California.
Aside from sharks, other dangers Cassell is prepared to face include hypothermia, decompression sickness, extraordinary currents, equipment failure, and physical exhaustion.
For this diver, however, his safety, although important, is not top priority. "Every dive is a mission," says Cassell. "And the mission is always first." read more »
(quote)
More arrests on second day of oil pipeline protests
A Toronto woman was among those arrested on the second day of a mass protest held outside the White House to denounce a planned pipeline that would transport Canadian oil from Alberta to Texas. Dozens of protesters were removed by U.S. Park Police on Sunday for failing to obey orders governing demonstrations on the grounds of the White House.
Patricia Warwick, 68, of Toronto, and a 65-year-old woman from Massachusetts were arrested shortly before noon and by the end of the day about 50 people had been detained. U.S. Park Police Sgt. David Schlosser said late Sunday everyone arrested was later released. read more »

(quote)
According to the UN, unsanitary water kills more people worldwide than war. As the precious water supply dwindles, it may prove to be more than just a crisis for developing countries.

Everyone is aware of the dangers of peak oil, but peak water is just as, if not more, devastating. The planet's fresh water supply is a precious resource and the rate at which the industrialised world consumes it is always increasing. As such, there is a fear, as with oil, that eventually extraction rates hit a peak and it's only downhill from thereon-in. Staff at the Pacific Institute however have made a disturbing discovery - that the US hit 'peak water' in 1970... and nobody noticed.
The Facts About The Global Drinking Water Crisis
• 1.1 billion people in the world do not have access to safe drinking water, roughly one-sixth of the world's population.
Consumption
• The average American uses 100 to 175 gallons of water per day.
• The average African Family uses 5 gallons per day.
• It takes 5 liters of water to make 1 liter of bottled water.
• Almost 70 percent of the available fresh water gets used for irrigation in agriculture.
• More than half of the water used for irrigation leaks, evaporates or runs off.
• It takes 2,900 gallons of water to produce one quarter pound hamburger (just the meat)
Our Planet read more »
Professor Christopher Busby (video): "As a matter of fact, right from the beginning, real situation is far worse. Lots of indicators: there have been nuclear explosions.. we now know from the data.. serious matter.. massive radiation coming out. It is still going on - by no means it is over…"


Japan declares nuclear emergency - fire broke out..11 nuclear reactors shut down... nuclear crisis since March 11: nuclear reactors react to 9.0 earthquake. Repeated human errors - 1979: Three Mile Island, 1986: Chernobyl (video "25 years later: Food for Thought"), 2011: Fukushima (nuclear fallout map and video from Japanese journalist, the first to enter the radiation evacuation zone)
(quote)
May 26, 2011 - Greenpeace: High radiation levels detected in Japanese seafood: Tokyo - High levels of radioactive substances were found in seaweed and other seafood products near a damaged nuclear power station in north-eastern Japan, environmentalists.
Greenpeace Japan said it found radioactive substances above the legal limits for consumption in 14 of 21 samples of products that included seaweed, shellfish and fish caught 22 to 60 kilometres from the Fukushima Daiichi Nuclear Power Station. read more »

Video from Japanese journalist entering the Fukushima radiation zone - see original, full video here.

Fukushima nuclear fallout map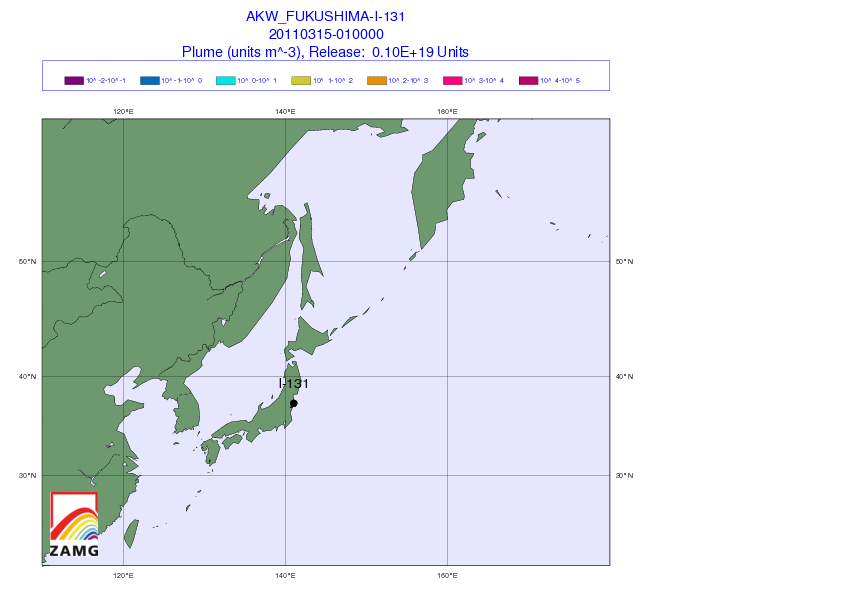 (quote)
Chernobyl Anniversary - Greenpeace USA: It has been 25 years since the name Chernobyl became the infamous nuclear accident that devastated the lives of millions of people in Western Russia, Belarus and the Ukraine. 25 years on, and the nightmare for thousands of people is still frightening.
The Chernobyl catastrophe released 100 times more radiation than the atom bombs dropped over Hiroshima and Nagasaki. Yet many seem to just dismiss the accident as a part of history and forget what large doses of radiation actually do to human lives. Sadly, focussing solely on the disputed statistics of Chernobyl has dehumanized what happened. The effects of Chernobyl touched millions of people and thousands still endure very visible and painful effects. read more »
Custom Search
---