energy
---

(quote)
Do not bring whale meat home from Iceland, British tourists told - Whale meat on sale at Keflavik airport prompts the Foreign Office to issue a warning to Britons at risk of breaching international law
Up to 70,000 Britons who visit Iceland each year have been given a stiff warning by the Foreign Office not to bring home any whale meat, saying to do so is in breach of international law protecting endangered species.
Penalties of imprisonment or fines up to £5,000 could be meted out by the courts, says the Foreign Office, because importation into Britain and other EU countries is illegal under the Convention on International Trade of Endangered Species (Cites). read more »
(quote)
More arrests on second day of oil pipeline protests
A Toronto woman was among those arrested on the second day of a mass protest held outside the White House to denounce a planned pipeline that would transport Canadian oil from Alberta to Texas. Dozens of protesters were removed by U.S. Park Police on Sunday for failing to obey orders governing demonstrations on the grounds of the White House.
Patricia Warwick, 68, of Toronto, and a 65-year-old woman from Massachusetts were arrested shortly before noon and by the end of the day about 50 people had been detained. U.S. Park Police Sgt. David Schlosser said late Sunday everyone arrested was later released. read more »
Professor Christopher Busby (video): "As a matter of fact, right from the beginning, real situation is far worse. Lots of indicators: there have been nuclear explosions.. we now know from the data.. serious matter.. massive radiation coming out. It is still going on - by no means it is over…"


Japan declares nuclear emergency - fire broke out..11 nuclear reactors shut down... nuclear crisis since March 11: nuclear reactors react to 9.0 earthquake. Repeated human errors - 1979: Three Mile Island, 1986: Chernobyl (video "25 years later: Food for Thought"), 2011: Fukushima (nuclear fallout map and video from Japanese journalist, the first to enter the radiation evacuation zone)
(quote)
May 26, 2011 - Greenpeace: High radiation levels detected in Japanese seafood: Tokyo - High levels of radioactive substances were found in seaweed and other seafood products near a damaged nuclear power station in north-eastern Japan, environmentalists.
Greenpeace Japan said it found radioactive substances above the legal limits for consumption in 14 of 21 samples of products that included seaweed, shellfish and fish caught 22 to 60 kilometres from the Fukushima Daiichi Nuclear Power Station. read more »

Video from Japanese journalist entering the Fukushima radiation zone - see original, full video here.

Fukushima nuclear fallout map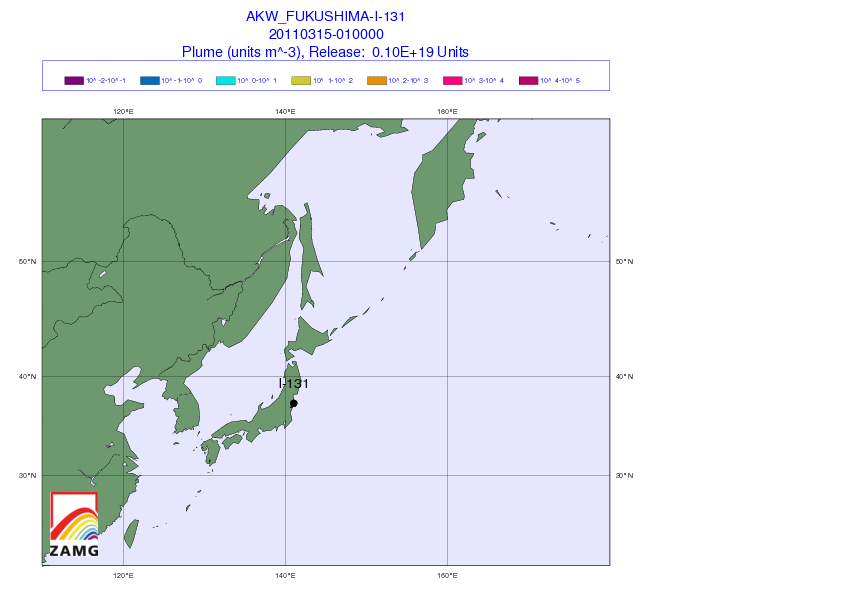 (quote)
Chernobyl Anniversary - Greenpeace USA: It has been 25 years since the name Chernobyl became the infamous nuclear accident that devastated the lives of millions of people in Western Russia, Belarus and the Ukraine. 25 years on, and the nightmare for thousands of people is still frightening.
The Chernobyl catastrophe released 100 times more radiation than the atom bombs dropped over Hiroshima and Nagasaki. Yet many seem to just dismiss the accident as a part of history and forget what large doses of radiation actually do to human lives. Sadly, focussing solely on the disputed statistics of Chernobyl has dehumanized what happened. The effects of Chernobyl touched millions of people and thousands still endure very visible and painful effects. read more »

Fury of Nature, of Ocean unleashed: earthquake and tsunami swallow entire cities and towns in Japan, decimating entire infrastructures at astonishing speed.
(quote)
Japan Declares Nuclear Emergency, As Cooling System Fails At Power Plant
Original post: Ominous flash from Kyodo Wire:
The operator of the Fukushima No. 1 nuclear plant reported an abnormality Friday following a powerful earthquake which hit a wide area in northeastern Japan including Fukushima Prefecture, the industry ministry said. The system to cool reactor cores in case of emergency stopped at the No. 1 and No. 2 reactors of the plant operated by Tokyo Electric Power Co., it said.
Japan has declared a nuclear emergency. 2000 residents near the Fukushima Nuclear Plant have been urged to evacuate. read more »
(quote)
Scottish scientists develop whisky biofuel - By-products from distilling process could be used to power cars and even aviation, according to researchers in Edinburgh
It gives a whole new meaning to the phrase "one for the road". Whisky, the spirit that powers the Scottish economy, is being used to develop a new biofuel which could be available at petrol pumps in a few years.
Using samples from the Glenkinchie Distillery in East Lothian, researchers at Edinburgh Napier University have developed a method of producing biofuel from two main by-products of the whisky distilling process – "pot ale", the liquid from the copper stills, and "draff", the spent grains.
Copious quantities of both waste products are produced by the £4bn whisky industry each year, and the scientists say there is real potential for the biofuel, to be available at local garage forecourts alongside traditional fuels. It can be used in conventional cars without adapting their engines. The team also said it could be used to fuel planes and as the basis for chemicals such as acetone, an important solvent.
The new method developed by the team produces butanol, which gives 30% more power output than the traditional biofuel ethanol. It is based on a 100-year-old process that was originally developed to produce butanol and acetone by fermenting sugar. The team has adapted this to use whiskey by-products as a starting point and has filed for a patent to cover the new method. It plans to create a spin-out company to commercialise the invention. read more »
Custom Search
---