video
---

A simulation of what today's lunar eclipse should look. Credit: Google

Lunar eclipse: Google, YouTube broadcast the astronomical event live.
(quote)
June 15, 2011: The lunar event will last about 100 minutes YouTube will be broadcasting on the Web a red-glowing lunar eclipse today at 11:20 a.m. PDT that otherwise will only be visible in the skies of South America, Africa, Asia, Australia and Europe. Sorry, North America.
The lunar event will last about 100 minutes and be live-streamed in video to Google's official YouTube channel.
"We're always fascinated by the unique wonders of space and the world -- what can we say, it's the geek in us," wrote Noel Gorelick, Google's chief extraterrestrial observer, in a company blog post.
"Naturally, when we learned that part of the world will be treated to a rare 100-minute-long total lunar eclipse starting at 11:20 am PDT today, we were both excited and disappointed that this rare occasion wouldn't be visible from our Mountain View campus like last year's eclipse."
Suspecting they weren't alone in wanting to see the eclipse, a team of Googlers contacted the folks at Web-broadcasting Slooh SpaceCamera to get a real-time video feed of the eclipse onto YouTube.
Slooh is hosting a mission interface Web app, built using Google's App Engine technology, that will also broadcast the video feed and will be "equipped with audio narrations from real-life astronomers so you can hear a firsthand, expert account of the event," Gorelick said. read more »
Professor Christopher Busby (video): "As a matter of fact, right from the beginning, real situation is far worse. Lots of indicators: there have been nuclear explosions.. we now know from the data.. serious matter.. massive radiation coming out. It is still going on - by no means it is over…"


Japan declares nuclear emergency - fire broke out..11 nuclear reactors shut down... nuclear crisis since March 11: nuclear reactors react to 9.0 earthquake. Repeated human errors - 1979: Three Mile Island, 1986: Chernobyl (video "25 years later: Food for Thought"), 2011: Fukushima (nuclear fallout map and video from Japanese journalist, the first to enter the radiation evacuation zone)
(quote)
May 26, 2011 - Greenpeace: High radiation levels detected in Japanese seafood: Tokyo - High levels of radioactive substances were found in seaweed and other seafood products near a damaged nuclear power station in north-eastern Japan, environmentalists.
Greenpeace Japan said it found radioactive substances above the legal limits for consumption in 14 of 21 samples of products that included seaweed, shellfish and fish caught 22 to 60 kilometres from the Fukushima Daiichi Nuclear Power Station. read more »

Video from Japanese journalist entering the Fukushima radiation zone - see original, full video here.

Fukushima nuclear fallout map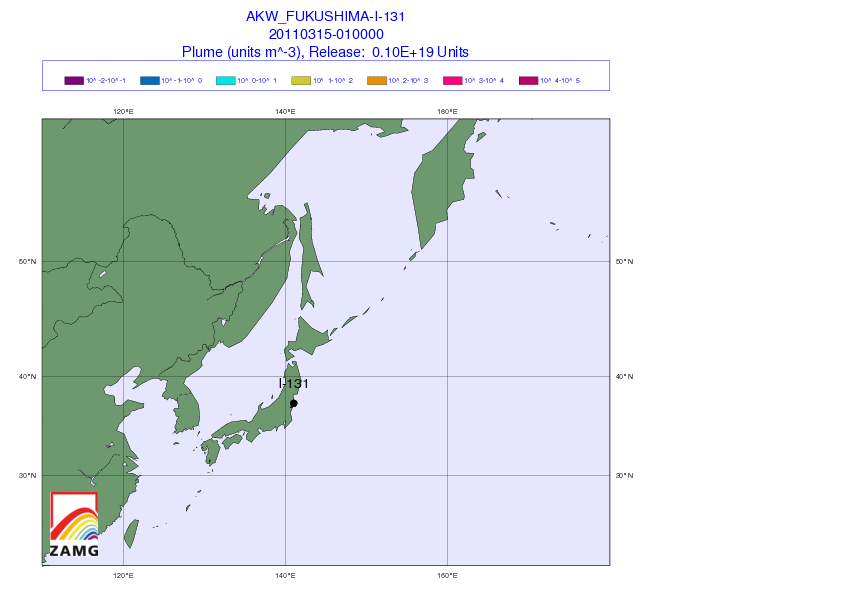 (quote)
Chernobyl Anniversary - Greenpeace USA: It has been 25 years since the name Chernobyl became the infamous nuclear accident that devastated the lives of millions of people in Western Russia, Belarus and the Ukraine. 25 years on, and the nightmare for thousands of people is still frightening.
The Chernobyl catastrophe released 100 times more radiation than the atom bombs dropped over Hiroshima and Nagasaki. Yet many seem to just dismiss the accident as a part of history and forget what large doses of radiation actually do to human lives. Sadly, focussing solely on the disputed statistics of Chernobyl has dehumanized what happened. The effects of Chernobyl touched millions of people and thousands still endure very visible and painful effects. read more »

Fury of Nature, of Ocean unleashed: earthquake and tsunami swallow entire cities and towns in Japan, decimating entire infrastructures at astonishing speed.
(quote)
Japan Declares Nuclear Emergency, As Cooling System Fails At Power Plant
Original post: Ominous flash from Kyodo Wire:
The operator of the Fukushima No. 1 nuclear plant reported an abnormality Friday following a powerful earthquake which hit a wide area in northeastern Japan including Fukushima Prefecture, the industry ministry said. The system to cool reactor cores in case of emergency stopped at the No. 1 and No. 2 reactors of the plant operated by Tokyo Electric Power Co., it said.
Japan has declared a nuclear emergency. 2000 residents near the Fukushima Nuclear Plant have been urged to evacuate. read more »
(quote)
Salute to fearless volunteers - Sea Shepherd sent vessels to the area for the 7th year this season.. its 801-metric-ton Bob Barker vessel had trailed the 8,044-metric ton Nisshin Maru ship for 2,000 miles (3,220 kilometers) near the Southern Ocean, and cut off Supplies to the Japanese Whaling Fleet.. As a result, the whalers caught 170 minke whales out of a planned 850 and 2 fin whales from a planned 50. Japan has no choice but to abandon its whale hunt for the first time in four years. Paul Watson, founder of Sea Shepherd and captain of its fleet, said: "I have a crew of 88 very happy people from 23 different nations including Japan," he said. "And they are absolutely thrilled that the whalers are heading home and the Southern Ocean Whale Sanctuary is now indeed a real sanctuary." read more »
(quote)
Every second breath we take comes from the ocean. Every drop of water we drink connects us to Nature, especially the ocean.
The ocean is not just water, it's alive, and it's our life support system. Oceans provide more than half of the oxygen we breathe. Yet we do harm to our host; 90% of big fish are gone, 20% of coral reefs are gone...
Oceans cover 72% of earth and land covers 28% of earth -
12% of land is protected while less than 1% of oceans are protected...
(unquote)
(quote)
Science calls these animals Eubalaena glacialis, "good, or true, whale of the ice."
Brian Skerry (photographer): "When I was at the bottom at 70 feet, and here comes this bus swimming down. It came within inches. Here's this softball-size whale eye looking at me. But then it stops - stops on a dime. It's just hovering there, and literally one flick of its tail, and it would have crushed me like a bug. But it doesn't. It was just highly curious."
Custom Search
---